About us
Hihaho stands for High Interactivity, High Attention value and High Outcomes. We're a global Do-It-Yourself SaaS platform for interactive video. Fully scalable from 1 to an infinite number of interactive videos. For any purpose, in any domain, compliant with all online video platforms. With our unique and solid layer technology we make your videos click and as interactive and smart as the internet itself.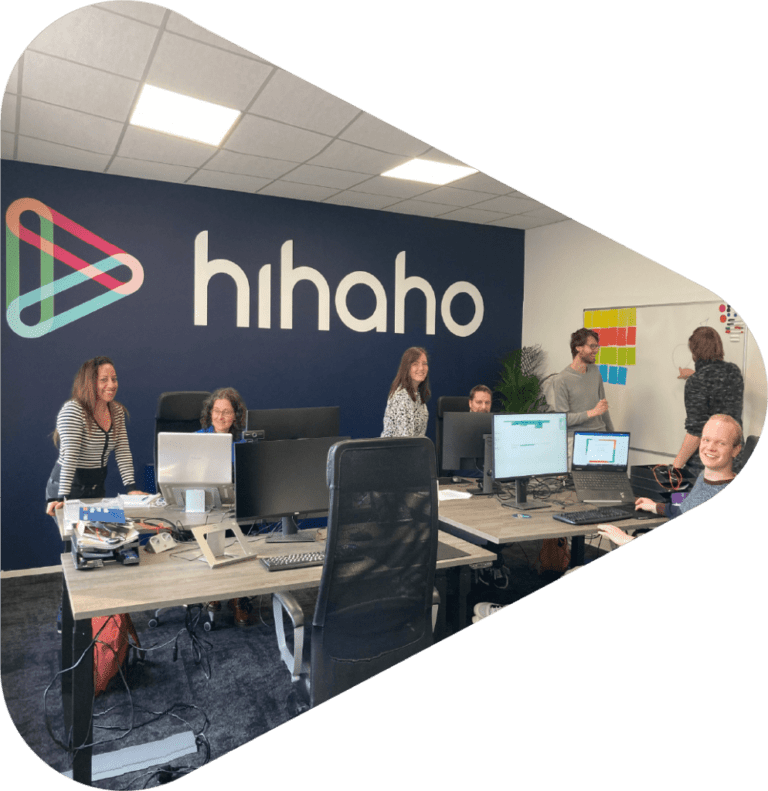 It is our mission to solve friction in business processes, consumer and employee communication and learning by making people more self-supporting with interactive video, worldwide.
Interactive video is the new communication standard
More than 80% of all internet traffic is online video. 75% of all internet users prefer to watch a video instead of reading a text. They say 'A picture paints more than a thousand words'. And according to Forrester one minute of video equals 1.800.000 words. So, can you imagine the impact of interactive video? We can make it happen for you. Right away.
Interactive video made easy
Interactive video has been around for some time. But too often too complex or too expensive to apply. We make creating an interactive video accessible to everyone, worldwide. No matter what kind of interactive video content you have in mind. With hihaho it is as simple as creating a powerpoint presentation. And suitable for every wallet.
Unleash your creativity!
What do you want to use interactive video for? Is it to teach or train 24/7? To learn more or to understand better? To explore possibilities?
To inspire people and engage your audience? To explain your products and services? To provide easy to understand public information?
Maybe you want to to sell easier and accelerate growth. Or support your customers in a much better way.
Looking for the best way to connect to more consumers and generate leads? Or to entertain viewers? Whatever your ideas are, with hihaho you can make them become reality.
And there is evidence
Research from Google shows that no less than 70 percent of B2B buyers choose video in the customer journey. Further research shows that interactive video drives a 47% gain in time spent with a marketing message compared to a non-interactive video. In learning, interactive video requires 40-60% less time to learn than traditional ways of (e-)learning. 
People remember video content much better than text. 90% of the viewers can still remember what was shown and told in an interactive video three days later. For written text this is only 10%. So, what are you waiting for? Get started right away for free and find out yourself what interactive video can do for you and your audience!
Building together, growing together
At hihaho, we're reimagining the way the world moves. The work we do is shaping the future of serving content and changing the way people live and grow. To get there, we've brought together a collective of optimists and doers to tackle some of the most challenging problems. Our people take ownership. We push ourselves beyond our comfort zones. We challenge perceptions and question our limits, so we can grow in new directions. Just like our company.
We believe in learning by doing—and that there is no better classroom than real-world experience. It's an audacious, incredibly rewarding mission that our increasingly diverse team is dedicated to achieving.
Join us to move yourself—and the world—forward.