PowerPoint is a very popular presentation software: it's easy to use and very useful for visualizing your presentation. However, most of us will probably be familiar with the phrase "Death by PowerPoint". And for good reason. With all the recent developments in software tools for presenting, you can step up your presentation game, for instance, by adding an extra layer of engagement to the story you want to tell in the form of a video. Do you want to know how to can make an interactive video presentation? In this blog we will show you several ways to do so!
An interactive experience
With the help of hihaho, you're able to let your audience contribute to and navigate through your interactive video presentation. The use of \menus, buttons, links, and questions, will create a whole new experience for your viewers. 
Your viewers have complete freedom within your interactive video presentation. They can watch it whenever and wherever they want. Interactivity lets you connect with your audience like never before.
Now, let's get into ways to transform your PowerPoint presentation into an interactive video.
Useful elements in PowerPoint
The components you normally use in PowerPoint presentations make good cornerstones for your interactive presentation:
A table of contents at the start of a presentation makes for a great menu to navigate through the video. Just use the

Transparent Button

to make your table of contents clickable!

Animated slide transitions in PowerPoint will make your slides more lively and already make your presentation look more like a video.

You can choose to replace text that you want to

make clickable by buttons

to make the interactive aspect more clear and appealing.

If you choose to leave your contact information at the end of your presentation, you can make the information clickable. This way the viewer can easily contact you in the way they prefer. You can even add a button to visit your LinkedIn account or directly send an email after seeing your presentation.

We often see that people want to include YouTube videos within their presentation. This works great with hihaho as well. If you want to show a video from an online platform like YouTube, you can stream the video into hihaho. Then just use the

Linked Video interaction

to add a button to your presentation that takes the viewer to the YouTube video. The Linked Video interaction creates a back button in the second video, making it easier for your viewers to return to the original presentation.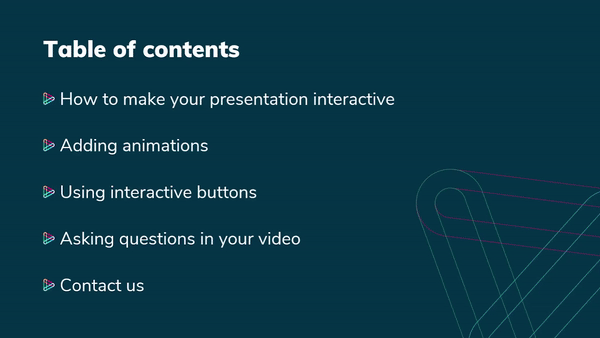 Convert PowerPoint to video
Did you know you can easily create a video file, compatible with hihaho, from your PowerPoint slides? You can export your entire presentation without having to record anything manually. PowerPoint has many options to easily create a video that works great for adding interactivity, such as texts, visual elements, voice-overs, or a video that is filmed with your webcam.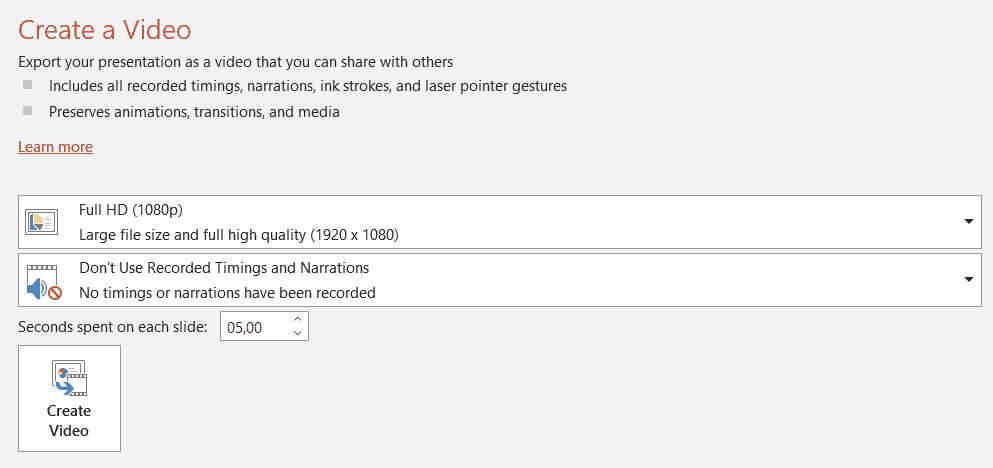 Alternatively, you can record your slides manually with screencasting software. For screencasting, there are several free tools that we recommend, such as ShareX or OBS Studio. Finish by adding the interactive layer in hihaho to enhance viewer experience. 
You're the star
Another way to make your presentation interactive is to completely distance yourself from PowerPoint and get in front of the camera! This gives you complete freedom to present in the way that feels best to you. You can use attributes while filming or add images and interactive elements afterwards.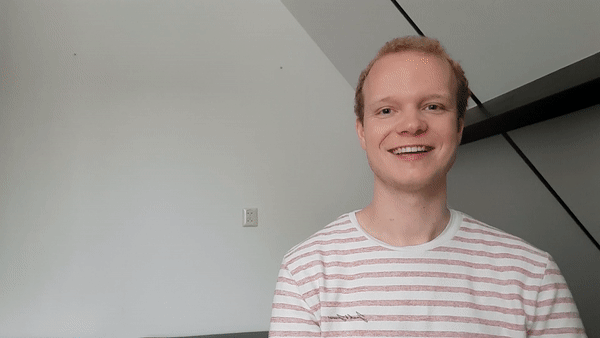 Tips:
Preparation is key. It is important to keep in mind where and when you want to add interactions. This way, you can leave necessary space in the video as shown in the picture above.

When presenting on behalf of a company, try to implement their visual branding as much as possible. Your company's colors, images, and logo can help create consistency and a professional look.

Ask questions in your video to keep your audience intrigued. To make sure they actively think about what you're presenting, it is important to keep engagement high by using interactive questions in your video.

Last but not least: have fun! The best way to grab the attention of your viewers is to tell them about something you are genuinely passionate about in a way that suits you best. After all, enthusiasm is contagious!
Making an interactive video can be a bit more time consuming than creating a PowerPoint presentation, but it will be worth your while. Time to blow your audience away with your presentation! Get started with how to make an interactive video presentation in this introduction video.